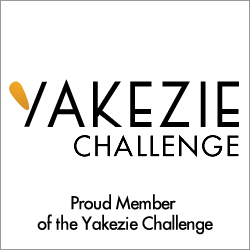 I first came across the Yakezie Challenge created by the Financial Samurai, many months ago while I was blogging away, but didn't take it too seriously back then. But looking back, I sure wish I did. If you read that post by the Financial Samurai, you will quickly realize that a good Alexa ranking is as important as a significant Google page rank. And apparently a lot of advertisers and other large websites think so as well. And if you have an Alexa ranking of 200K or less then you're set – a lot of perks will come your way. But Yakezie is much more than a ranking, it's also about helping others.
It was Barbara Friedberg back at Fincon11 (Financial Bloggers Conference) who asked me if I wanted to join, and it's been whirling away in my mind ever since. This last week, especially with the 2012 New Year, I decided it was finally time to sign up and take the challenge!  You can read more about Yakezie, and the Yakezie Challenge on their website. The main focus of the challenge is two-fold, to obtain an Alexa ranking of 200K, and to "selflessly" help others along the way.
Why am I excited to join the Yakezie Challenge? There are really several reasons. (1) I get to reach out to an entire blogging community. That's not only a lot of traffic, but also a lot of new people to meet. (2) The commitment to write 2 to 4 articles per week, for 6 months, helps to keep me focussed and on track. (3) Of course I get the opportunity to increase my traffic, improve my Alexa Page Rank, and possibly my Google page rank as well. In my opinion, that's a great benefit! As Financial Samurai points out, there is a lot of extra perks when your rank goes under 200K. But I'm really looking forward to the challenge itself, and the other bloggers I'll meet along the way.
Alexa ranking is just as important as Google page rank in the internet industry. I know already know that from being in the business. Currently my Alexa Ranking is 392,241 so I have a long way to go to get to 200,000. Is that doable in the 6 month limit? Well time will tell, but I'm certainly looking forward to the challenge to see if it is.
Although I'm a newbie, if you are in the Yakezie network or challenge, and there is anything the Dividend Ninja can do, just ask.
Readers: Are you part of the Yakezie Challenge? What do you think of Yakezie? OK thanks for reading and back to 2012 stock picks and dividends soon enough 🙂